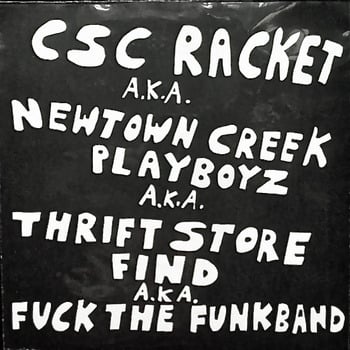 CSC Funk Band "Bad Banana Bread" 7" 45rpm
$

9.99
Side A: Side B:
When flipping though singles in the new bin how do you not pick up a 45 for a band that has got 4 alternate names on it? CSC Funk Band, aka CSC Racket, aka Newtown Creek Playboys, aka Thrift Store Find, aka Fuck The Funk Band. Whatever they want to call it, the Bad Banana Bread single is definitely (and defiantly) more James Brown then James Murphy, and more acid-fried Funkadelic than either, given Colin Langenus's ripping leads and Dave Kadden's completely bonkers, Ethiopiques-tinged oboe solo. This is some low-down dirty toxic North Brooklyn sludge funk.
Caneca features some mighty fast-funk, guitar-based instrumental grooving. Reminiscent of Remain In The Light-era Talking Heads but with with more of a sense of Bushwick loft party-urgency that begets bongos and cowbells blazing on steroids. A succinct two-and-a-half minute burner that climaxes two-thirds of the way through when the band halts in mid-gallop to shout in unison CANECA!!!
You may also like...