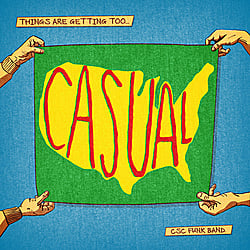 Sold

Out
CSC Funk Band "Things Are Getting Too Casual" (FB5145) LP 12" 33RPM
$

11.99
CSC Funk Band's first full-length release for Fat Beats is a kind of tapestry representation of their first three years of existence. They came 11- deep from the formidable Brooklyn underground to forge an unforgettable path that leaves no ass unshaken and all ears aflame. This is funk in the sense of blistering backbeats and sweaty, selfless abandon, of all senses colliding and all minds melding. This is instrumental get-up-and-dance music from planet nowhere.
CSC's muscular groove assault belies an opium-tinged underbelly that performs perfectly at both backdoor loft parties and starry Summer-night drives. Rocking saxes, synths, guitars, trombones, drums, trumpets, a bass, and an oboe, the band is a random, diverse, and eclectic collective. The psychedelic avalanche that the band effortlessly induces can be traced up the musical mountain to firm roots in technical mastery, avantexperimentation, and noise-punk ethos. TAGTC includes tracks from their now out-of-print first 45 on Electric Cowbell and sessions from St. Cecilia's and Studio G in Brooklyn.
You may also like...