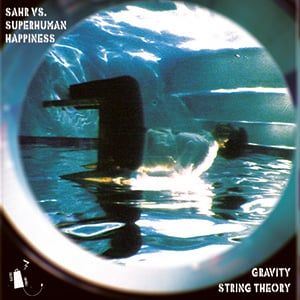 Sahr vs Superhuman Happiness 7" 45rpm
$

4.99
Side A: Side B: A true "only in New York" story that yields this record. In 2008 Sierra Leone-born Sahr Ngaujah was picked to play the role of Fela Kuti in the Bill T. Jones Broadway production of Fela! the musical about the life of based on events in the life of groundbreaking Nigerian composer and activist Fela Anikulapo Kuti. For Fela!, Kuti's music has been arranged and performed by the Brooklyn-based Antibalas Afrobeat Ochestra. Lead tenor sax player of Antibalas, Stuart Bogie quickly developed an intimate musical kinetic relationship with Sahr Ngaujah, as he played the ghost sax to Sahr's role as Fela Kuti. Fueled by the energy behind a full-scale Broadway production, Sahr and Stuart began collaborating off Broadway with various members of Antibalas to create something entirely different from their previous work. Coming from the world of European experimental theater, Sahr delivers a dramatic, unconventional performance on "Gravity" and "String Theory." Like Tim Buckley and Bjork, Sahr uses his vocal cords the way he wants to, refusing to conform to the conventional understanding of "singing." And here Superhuman Happiness is his perfect foil. A group also known for being the pulse behind a premier afro-beat orchestra, they often challenge the conventional requirements of rhythm and rhyme, rewarding the listener with a fresh assembly line of musical components that rise and fall and stretch and burst beneath Sahr's vocals, yielding an avant-fresh approach to dance music.
You might also like String Theory (GRC Vocal Mix)
Available on Electric Cowbell's compilation album101 Things to Do In Bongolia
You may also like...