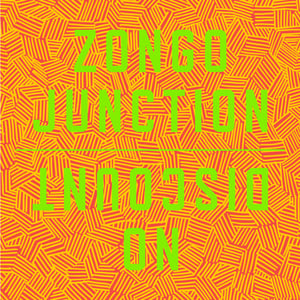 $

14.99
Sample track "Longtooth" Here:Zongo Junction - No Discount
"If the Talking Heads produced a Fela Kuti record of Sun Ra's music, the product would probably sound something a lot like Zongo Junction."
Electric Cowbell Records is proud to announce the release of No Discount, the second full length album from Brooklyn psychedelic afrobeat band, Zongo Junction. Exploding from the center of New York's vibrant afrobeat scene, Zongo Junction electrifies dance floors wherever they perform. Packed with four horns, and a five-piece rhythm section, audiences can't help but move no matter where the band is playing. If the Talking Heads produced a Fela Kuti record of Sun Ra's music, the product would probably sound something a lot like Zongo Junction.
In an industry where it has become commonplace to watch bands perform with laptops & backing tracks instead of live musicians, Zongo Junction takes the stage 9 strong. The Village Voice describes their live show as "Sheer energy with the force of a tractor- trailer that roars with power and noise" while the SF Chronicle says that "Zongo Junction plays its own fractured version of Afro-beat and generates an unstoppable groove when it takes the stage."
The music on No Discount, which was produced by Mikey Freedom Hart (Sinkane, Albert Hammond Jr, Bleachers), embraces the individual members' interests, from Dirty Projectors to Albert Ayler, Wu Tang to Meshugguh. At its core, you will find the addictive West African grooves that are the foundation of Zongo Junction's music. No Discount will be available worldwide on limited edition 150 Gram white vinyl, CD, and for digital download.
The album was recorded to 24 track, two-inch tape at The Bunker studio in Brooklyn NY, then disassembled and polished, piece by piece, by producer Mikey Hart, over a year-long mixing process. It was mastered by all-star engineer Brian Lucey (The Black Keys). Featuring swaths of analog electronics, hairpin rhythmic turns, and elaborate statements from a powerhouse 5-piece horn section, the band has become impressively adept at nestling entire sound worlds on top of authentic afrobeat grooves. The result is one of the most sonically intricate, and infectiously danceable recordings imaginable.
The band formed in 2009, when drummer and California native, Charles Ferguson, returned from a six-month stay in Ghana, West Africa. The group has proven to be a favorite booking at venues like Brooklyn Bowl, The Kennedy Center and The Great American Music Hall. Zongo Junction recorded their first album, Thieves! in 2010, which included a collaboration with longtime Fela Kuti band member, Leon Kaleta Ligan-Majek. Members of the band have toured and recorded with TV On The Radio, Man Man, Antibalas, Vampire Weekend, Easy Star All-Stars, Tune-Yards, The Walkmen, and many more.